Coronavirus update 24 Nov 2020
Latest coronavirus restrictions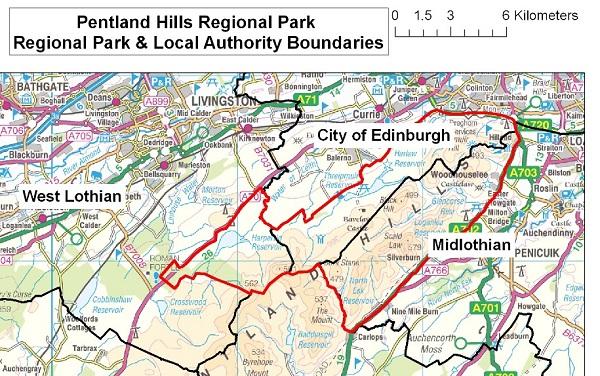 ABOVE - RED LINE IS PARK BOUNDARY, BLACK LINES ARE LOCAL AUTHORITY BOUNDARIES
This advice was updated on Tuesday 24 November, following news that Midlothian is to stay in Level 3.
The Pentland Hills Regional Park is covered by three different local authorities: City of Edinburgh, Midlothian, and West Lothian. The Regional Park bounds the Scottish Borders to the south.
Government advice is that "to suppress the spread of COVID-19 it is essential that, with limited exceptions, there is no travel to or from areas where higher numbers of people may be carrying the virus." You can read more about government guidance here https://www.gov.scot/coronavirus-covid-19/
City of Edinburgh and Midlothian council areas remain in Level 3. Government advice is that you should avoid any unnecessary travel into or out of your own local authority area. You should not travel between two adjacent areas in Level 3 or above.
From Friday 20 November West Lothian will be in Level 4 for three weeks. Government advice is that you should avoid any unnecessary travel into or out of the area. You should also keep journeys within the area to a minimum.
Scottish Borders remains in Level 2. Government advice for Level 2 is that you should minimise unnecessary journeys between areas in different levels, and avoid any unecessary travel to Level 3 or 4 areas.
Exceptions: there is a list of limited exceptions from the guidance not to travel into or out of Level 3 and 4 local authority areas. It should be noted that these should not be seen as loopholes. Travel should be minimised as much as possible. If you are able to exercise outdoors by starting from home, you should do so. Exceptions relevant to the Pentland Hills Regional Park include:
local outdoor informal exercise such as walking, cycling, golf, or running (in groups of up to 6 people from no more than 2 households) that starts and finishes at the same place
travel locally (within around 5 miles of your local authority area) to reach a place to take exercise outdoors
We understand the first exception implies that your exercise can be of any linear length, mileage-wise, as long as it starts and finishes in the same place and does not involve an overnight stay. The exercise could include the crossing of local authority borders. The first exception should take account of the second exception's travel advice: ie, if crossing into a neighbouring authority, your exercise should start and finish within five miles of your local authority's border.
We would like to emphasise that we are extremely concerned at the potential for overcrowding at our popular car parks, which include Flotterstone, Bonaly, Harlaw and Threipmuir. Please walk, cycle or use public transport if possible (current government guidance is that if you area able to walk or cycle, you should do so, leaving space on public transport for those who need it. Face coverings should be worn on public transport). If you are able to access parkland or greenspace closer to your home rather than travel to the Regional Park, please do so.
Meeting socially outdoors
The maximum number of people who can meet outdoors is six, from up to two separate households. This applies in local authority areas in Levels 2, 3 and 4.
Outdoor access during COVID-19
The current guidance in relation to the Scottish Outdoor Access Code for COVID-19 is:
Maintain your distance – please stay at least 2 metres away from other people and if possible, try to avoid busy times on popular paths or places.
Respect the health and safety of farmers and others working the land – please follow all reasonable requests and signs to avoid particular areas, such as farmyards, fields with pregnant or young livestock, and other busy working areas.
Keep your dog under control – please put them on a lead or keep them close at heel and do not let them approach other people or livestock.
Avoid contact – try to avoid touching surfaces and if possible, plan a route that does not require you to open gates.
For full details read the Scottish Outdoor Access Code for COVID-19 here.
Q. I would like to travel from Leith to Flotterstone to walk my dog. Can I do this?
A. This would be moving between local authorities, with a Level 3 restriction continuing to be in place in Leith (City of Edinburgh) and Flotterstone (Midlothian). You should not travel outwith your own Level 3 area without good reason. Within the letter of the law, you can, as Flotterstone is less than five miles from the CEC boundary, and travelling for exercise is one of the exemptions. However, you should be aware that 1) Flotterstone car park can be extremely busy 2) there are ample areas to walk dogs closer to home - residents of City of Edinburgh (Level 3) are being asked to avoid non-essential travel if possible.
Q. I would like to meet up with three adult friends from two different households to go for a run from Bonaly. Can I do this?
A. No. If your three friends live in two different households, and you are in a third one, that is not permitted under current guidance for areas in Levels 2, 3 or 4.
Q. Can I drive to from Fairmilehead (City of Edinburgh Council) to Nine Mile Burn (Midlothian) to go for a walk?
A. No. This would be leaving an area with Level 3 restrictions to visit another local authority, and start your exercise more than five miles over the CEC/ML border.
Q. I would like to run all the main hills in the Pentlands in a single day, starting and finishing at Carlops. I live in Roslin (Midlothian, Level 3). Can I do this?
A. Yes. Carlops (Scottish Borders, Level 2) is less than a mile over the border from Midlothian.
Q. I live near Kirknewton (West Lothian), and would like to travel to Little Vantage (also West Lothian) to go for a walk. Can I do this?
A. Yes. However, residents of Level 4 areas are being asked to keep journeys within the area to an absolute minimum, so please bear this in mind. It would be unlikely to be acceptable to do this on a daily basis.
Q. I'm looking forward to visiting the Pentland Hills with my children this weekend, and am planning to drive to Harlaw car park from the City centre, mid-morning on Saturday. Can I do this?
A. According to the guidance you can, as it is within one Level 3 local authority. However, we do not recommend this, as during the current crisis ALL our main car parks are regularly full by 9am on weekend days - including in bad weather.