Coronavirus update from 16th April 2021
Latest guidance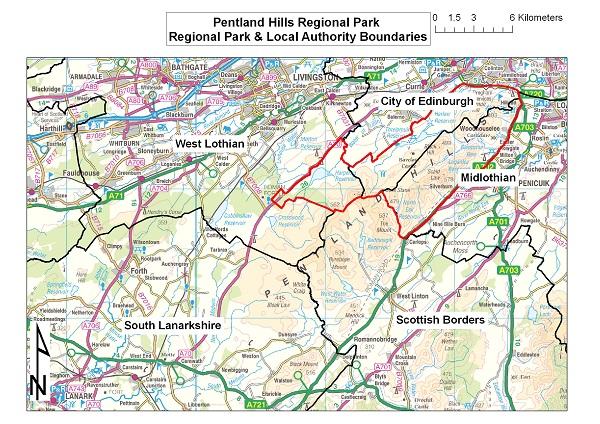 ABOVE - RED LINE IS PARK BOUNDARY, BLACK LINES ARE LOCAL AUTHORITY BOUNDARIES
Level 4 areas, from 16 April 2021.
The Pentland Hills Regional Park is covered by three different local authorities: City of Edinburgh, Midlothian, and West Lothian. The Regional Park bounds the Scottish Borders to the south. All local authority areas in this region will be under Level 4 regulations.
Download the Government "timetable for easing coronavirus restrictions."
Read more about the guidance on what you can and cannot do from 16 April.
Government advice is that from 16 April you can:
meet in groups of up to 6 adults from 6 households socially outdoors, for recreation or exercise (under 12s do not count towards the number of people meeting or households)
travel anywhere in Scotland to meet others for the above purpose - but you must not stay away from your local council area overnight
Camping, Drinking, Fires
Wild camping will be permitted within your own local authority area. You must not stay overnight outwith your own local authority. Wild camping should be done in small groups (no more than six adults from six households), and all litter should be removed in accordance with the Scottish Outdoor Access Code.
Drinking alcohol outdoors in a public place is prohibited.
All fires are currently prohibited due to the exceptionally dry conditions. Please report fires on the ground to Scottish Fire and Rescue via 999.
Meeting others outdoors
The maximum number of people who can meet outdoors will be six, from up to six separate households. Children under 12 do not count towards the total number of people permitted to gather outdoors.
Explore your local greenspaces
We know the Pentlands are a fantastic resource for exercise and getting away from it all. It is likely that the car parks will be under a lot of pressure. If you haven't already discovered the wealth of outdoor space in your local area please use the links below to discover what parks, woodlands, waterways, walks and cycle ways are close to you:
Edinburgh:
Parks and Greenspace www.edinburghoutdoors.org.uk/
Walking and cycling www.edinburgh.gov.uk/cycling-walking
Check out this map of Edinburgh's parks.
Midlothian:
Parks and Greenspace www.midlothian.gov.uk/directory/7/parks/category/19
Walking and cycling www.midlothian.gov.uk/info/200226/walking_and_cycling
West Lothian:
Parks and Greenspace www.westlothian.gov.uk/parks-and-woodland
Walking and cycling www.westlothian.gov.uk/walks-in-west-lothian www.westlothian.gov.uk/cycling
Outdoor access during COVID-19
The current guidance in relation to the Scottish Outdoor Access Code for COVID-19 is:
Maintain your distance – please stay at least 2 metres away from other people and if possible, try to avoid busy times on popular paths or places.
Respect the health and safety of farmers and others working the land – please follow all reasonable requests and signs to avoid particular areas, such as farmyards, fields with pregnant or young livestock, and other busy working areas.
Keep your dog under control – please put them on a lead or keep them close at heel and do not let them approach other people or livestock. We have had disturbing reports of dog attacks on sheep recently. Be aware that land managers can shoot dogs harassing sheep.
Avoid contact – try to avoid touching surfaces and if possible, plan a route that does not require you to open gates.
For full details read the Scottish Outdoor Access Code for COVID-19 here.