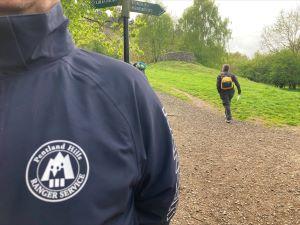 New rangers in the Regional Park
We have a whole new cohort of Rangers in the Regional Park!
14 new starts have been getting trained up over the past three months. Some are with us as part of a government employability scheme, eight are funded by NatureScot, plus we have three longer-term contracted staff, funded by City of Edinburgh Council (one part-funded by Scottish Water).
You may have already seen them out and about in the Park. They are splitting their time between car park checks, hot-spot camping area checks, longer patrols and individual environmental and interpretation projects.
Please do say hello if you bump into any of them: they are a friendly bunch, who are keen to have feedback from Park visitors, residents and land-managers alike.