Become a Voluntary Ranger
Voluntary Ranger Service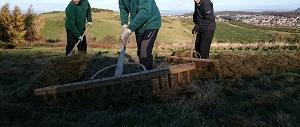 The Voluntary ranger service has operated in the Pentland Hills Regional Park since 1997 and continues to make an excellent contribution to the work of the Regional Park.
Voluntary Rangers are individuals from a wide range of ages and backgrounds, including retired people, students (aged 18 or over), and those with a keen interest in the Pentland Hills. Following intensive training they patrol the Regional Park at the weekends, giving advice to visitors and checking the state of the path network. They also take part in biodiversity surveys and practical work.
The Pentland Hills Voluntary Ranger Service aims to:
enhance the work of the Regional Park in caring for the hills
inform you of our work
encourage people to think positively and act responsibly toward the Pentland Hills
and help people understand and enjoy the hills in safety.
Opportunities for corporate and community groups to participate in conservation activities are also available.