Lambing time, spring 2021
Lambing during the coronavirus outbreak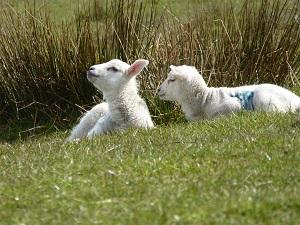 Sheep farmers in the Pentland Hills are entering one of their busiest times of the year, lambing! It is an important time to remind ourselves about responsible access in the countryside. The Scottish Outdoor Access Code sets out guidance which applies to recreational activity in the countryside www.outdooraccess-scotland.scot. This is more pertinent than ever during the current Covid-19 crisis. The Pentlands are mainly a farming landscape and many of the farms are sheep farms. These are often run by a family or even a single shepherd. The threat of catching the virus and becoming ill and unable to work is extremely worrying for these communities.
Livestock attacks continue to be a big problem across Scotland. Sadly, farms across the Regional Park experience incidents every year. This doesn't only include incidents of physical attack or injury, but also includes the animals being disturbed or chased. Disturbance can have adverse or fatal effects on survival during lambing time. For example, young lambs can be driven from shelter and may be separated from their mothers, potentially leaving the farmer to hand rear or lose it through starvation or predation. Each animal killed or injured because of a livestock attack has an upsetting and financial impact on the farmer.
Sheep are widespread in the Pentland Hills making the likelihood of you encountering them very high. Here are some tips to follow when you visit the hills during lambing season, especially if you take your dog.
If you are visiting the Pentland Hills for your daily exercise, please use gloves or hand gel when using gates and stiles.
Pay attention to signage at entrances and along routes. These will often suggest there is a high risk of encountering sheep in that area.
Avoid fields with sheep and lambs where possible. If you do walk through an area with sheep and lambs it is important to keep your dog on a short lead or close at heel keeping your distance from the animals to avoid disturbance.
If you see a lamb on its own, do not pick it up or move it: the mother is usually nearby. If you are concerned for its welfare, call us on 07798 505301, or contact the landowner with the location.
If you go out during the hours of darkness running, walking or cycling please consider your route carefully to avoid sheep and lambs. Low lying fields are key locations for lambing and if disturbed and separated in the dark it can put the lambs at risk.
If you find an injured or trapped animal, do not approach if you have a dog with you. Take a note of the location and let the farmer or the Regional Park staff know.
Work on improving your dog's obedience and recall. In the Hills you can often come upon sheep unexpectedly around dips and bends. If you want to walk your dog regularly off the lead, then it is essential the dog is reliable and expertly trained. Consider professional dog trainers who could help with this kind of training.
If you witness a sheep worrying incident contact the Police (101) and the Regional Park as soon as possible on 07798 505301 or pentlandhills@edinburgh.gov.uk.
Please support the local farming community, take extra Covid-19 prevention precautions and keep within the law by keeping your dog under proper control at all times.