Winter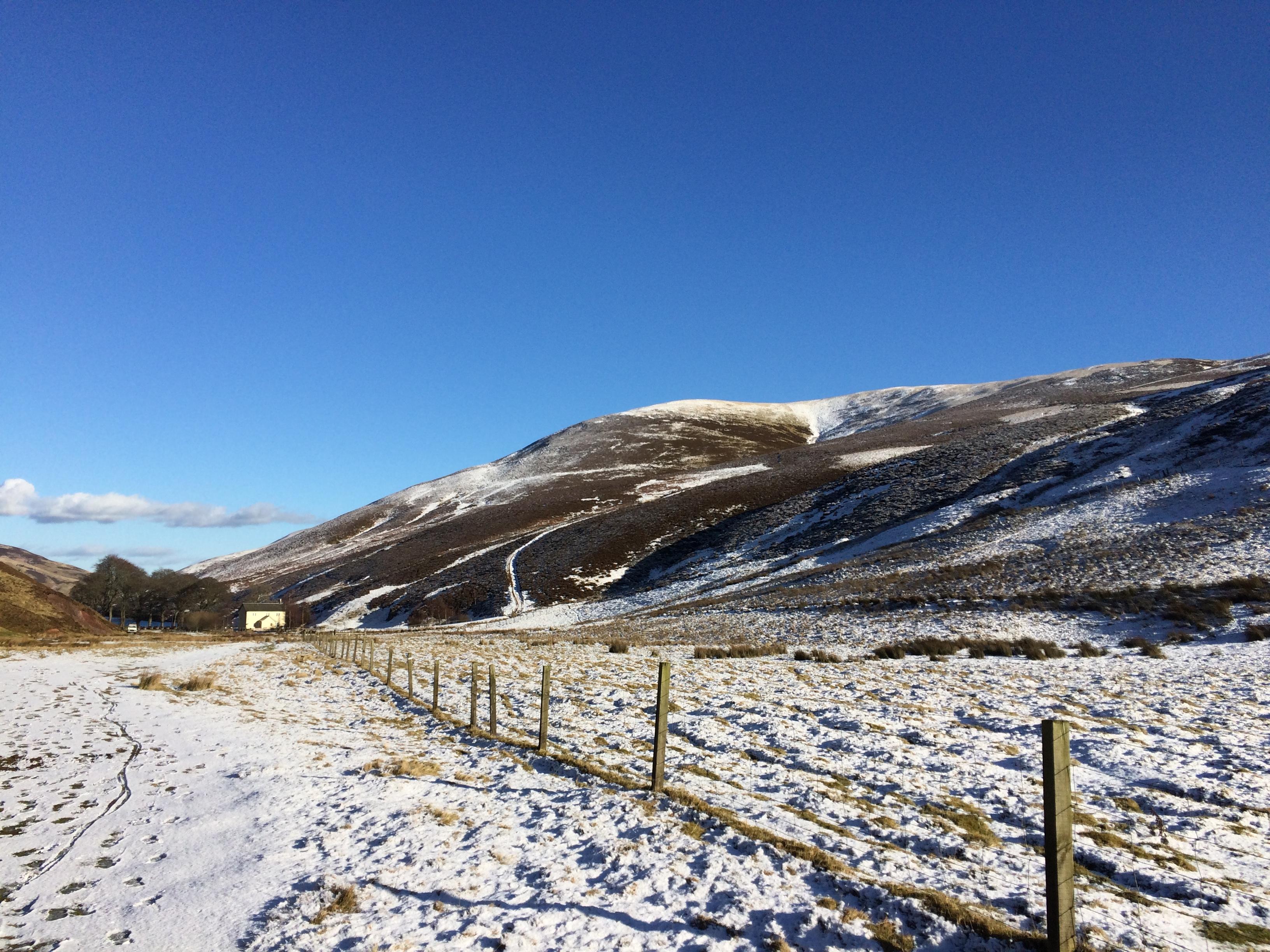 Exploring the Pentland Hills in winter should be done with the same safety measures you would take on other hill ranges in Scotland.
Whether walking, running, skiing or mountain biking, you should carry the following as a minimum:
- map (and know how to use it)
- compass (and know how to use it)
- survival bag
- ice axe (if conditions / route dictate)
- crampons (if conditions / route dictate)
- spikes such as YakTrax for iced-up access paths can be useful
- warm layers / waterproof clothing. Jeans are not appropriate clothing in the hills in winter due to the cotton becoming easily waterlogged.
- headtorch (daylight hours are short in winter)
- mobile phone kept charged in case the emergency services are required
The Pentland Hills may be diminutive compared to other Scottish hill ranges, but they still have the ability to provide full winter conditions. Please don't take them lightly.
Ice on reservoirs
Many of the reservoirs in the Regional Park freeze over in winter. We issue an ice warning when these reservoirs freeze over. Please do not be tempted to venture onto the ice. Do not allow your dog to walk on the ice.
Reservoir water levels fluctuate, meaning the ice is even more unstable than a 'standard' loch. Furthermore, undertows are present at inflows and outflows, especially near dams. If you see people walking on the reservoirs, we recommend you contact us or the police on 101. Throw-lines are available at all reservoirs (located in orange containers which previously contained life-rings).
Avalanches
Avalanches can happen wherever there is snow lying on ground of sufficient angle. Accidents in recent years in Scottish mountain areas demonstrate this occurring in the UK. The increased popularity of winter hillwalking along with ski mountaineering and off piste ski and boarding means greater numbers of people are exposed to avalanche hazard.
The combination of heavy snowfalls, slope angles of between 25-45 degrees and smooth, grassy slopes lead to a significant avalanche risk in the Pentlands.
AVOID BEING CAUGHT: AVALANCHE CHECKLIST, TOP 6 FACTORS
1. Visible avalanche activity: If you see avalanche activity on a slope where you intend to go, go somewhere else.
2. New snow build-up: More than 2cm/hr may produce unstable conditions. More than 30cm continuous build-up is regarded as very hazardous. 90% of all avalanches occur during snowstorms.
3. Slab lying on ice or neve, with or without aggravating factors such as thaw.
4. Discontinuity between layers, usually caused by loose graupel pellets or airspace.
5. Sudden temperature rise: the nearer this brings the snow temperature to 0 degrees C, the higher the hazard, even if thaw does occur.
6. Feels unsafe: the "seat of the pants" feeling of the experienced observer deserves respect.
TRAVEL IN HAZARD AREAS
It is rarely essential to negotiate an avalanche-prone slope. It is usually possible to find another way or retreat. 90% OF ALL AVALANCHES INVOLVING HUMANS ARE TRIGGERED BY THEIR VICTIMS. If it is essential to proceed bear in mind:
Solo travellers in avalanche terrain run grave hazards.
Skiers are in greater danger than walkers –the lateral cutting action of skis releases unstable snow. Off piste skiers should carry avalanche transceivers SWITCHED ON before leaving base. Carry collapsible probes and shovels. Walkers should also consider carrying these.
Direct ascent or descent is safer than a traverse.
Go one at a time – the others should closely observe the progress of the person crossing the slope.
Close up clothing and use a scarf around mouth and nose.
Belay if possible – although not possible on wide, open slopes.
IF CAUGHT
In most avalanche situations, any defensive action is very difficult. Movement relative to debris is often impossible. However, try some of the following:
Try to delay departure by plunging ice axe into undersurface. This may help you keep you near the top of the slide.
Shout. Others may see you.
If hard slab, try to remain on top of a block.
Get rid of gear, sacks, skis etc.
Try to roll like a log off the debris.
Swimming motions sometimes help.
As the avalanche slows down, you may be able to get some purchase on the debris. Make an attempt to get to the surface, or at least get a hand through.
IF BURIED
Keep one hand in front of your face and try to clear/maintain an air space.
Try to maintain space for chest expansion by taking and holding a deep breath.
Try to avoid panic and conserve energy. Your companions are probably searching for you.
AVALANCHE RESCUE: IF YOU WITNESS AN AVALANCHE BURIAL
Observe the victim's progress and if possible mark the point of entry and point at which last seen.
Check for further avalanche danger.
Make a QUICK SEARCH of the debris surface.
LOOK for any signs of the victim.
LISTEN for any sounds.
PROBE the most likely burial spots.
Make a SYSTEMATIC SEARCH, probing the debris with axes or poles.
Get help: DIAL 999, ask for POLICE and tell them you have a MOUNTAIN RESCUE INCIDENT.
KEEP SEARCHING until help arrives.
REMEMBER, YOU ARE THE BURIED PERSON'S ONLY REAL CHANCE OF LIVE RESCUE. Although survival chances decline rapidly with duration of burial, they do not reach zero for a long time.
For further information:
Scottish Avalanche Information Service