Pentland Hills Regional Park Service
Ranger Service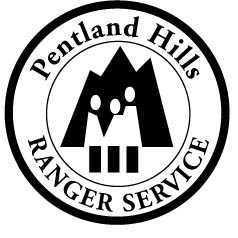 Lothian Regional Council established the Pentland Hills Ranger Service in 1976. The designation of a Regional Park happened in 1984 (confirmed in 1986 following a public enquiry).
Originally the Ranger Service operated in Hillend and Bonaly Country Parks, and the reservoirs owned and operated by Lothian Regional Council Department of Water and Drainage. As well as environmental education and interpretation, the Ranger Service was involved in fisheries management on Lothian Region reservoirs, including the operation of two fish farms. These activities ceased in 1986. The Ranger Service also ran a sailing school at Harperrig reservoir until 1994.
Staffing levels have varied over the years, peaking with 14 full-time staff and three seasonal staff in the mid 1990's. Local government re-organisation in 1997 saw Lothian Region discontinued and the Regional Park management replaced with a Joint Committee, comprised of elected members from the three local authorities whose administrative area lay within the agreed Park boundary. Also in 1997, the Pentland Hills Voluntary Ranger Service was formed.
In 2003, the minute of agreement between the three local authorities was revised and further staffing changes made.
In 2012, the Pentland Hills Ranger Service and the City of Edinburgh Council Countryside Ranger Service merged to form the City of Edinburgh Council Natural Heritage Service.
For several years following 2012 there were no staff with the job title of Ranger in the Park (previous Rangers were given more project-based roles, and the job title of Natural Heritage Officer).
In 2020 the Park was overwhelmed with visitors following the inital covid-19 pandemic lock-down: on-the-ground rangers were desperately needed. Funding was secured from NatureScot for six seasonal rangers in 2021, and 14 in 2022 (various funding sources). During this time the Regional Park Service rejoined the Scottish Countryside Rangers' Association.
In 2023, the Service operates with the following staff dedicated to the Regional Park:
0.5 Senior Natural Heritage Officer
1 acting-up Senior Natural Heritage Officer
3 Natural Heritage Officers
6 seasonal Pentland Rangers (funded by NatureScot)
1 Park Ranger (shared with city sites)
1 Park Ranger (apprentice)
These staff are supported by colleagues who also work at Natural Heritage sites throughout the City of Edinburgh, such as Hermitage of Braid and Blackford Hill, Water of Leith, and Cammo Estate. These staff are made up of the following:
0.5 Senior Natural Heritage Officer
2 Natural Heritage Officers
All staff are employed by the City of Edinburgh Council, managing authority for the Regional Park.
The Service continues to
patrol the hills and engage with visitors
liaise with farmers and landowners
maintain infrastructure including footpaths, gates, stiles and signage
plan and manage access and recreation
create innovative interpretation
supervise and train Volunteer Rangers
lead conservation volunteer groups
write and implement Biodiversity Action Plans
design and deliver an event programme
You can read the 2021/22 Regional Park Management Plan update here: it has lots of information about the running of the service over this period.