Flotterstone information point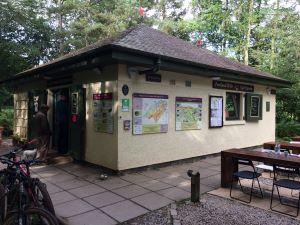 THE TOILET AT THE INFORMATION POINT IS CLOSED. PLEASE DO NOT TOILET IN THE AREA.
Flotterstone information point is located beyond the Flotterstone Inn, off the A702, on the eastern side of the Regional Park. Our leaflets are available there 24 hours a day, with lots more information on visiting the Pentland Hills. The building also houses the Pentland Hills Cafe Express coffee shop, which sells hot food and drinks.
Cafe opening hours (PLEASE SEE CAFE FACEBOOK PAGE FOR INFORMATION ON OPENING TIMES DUE THE COVID-19 CRISIS)
Monday 10am - 4pm
Tuesday Closed
Wednesday Closed
Thursday 10am - 4pm
Friday 10am - 4.30pm
Saturday 10am - 5pm
Sunday 10am - 5pm
Facilities:
Car park
Toilet - ONLY OPEN DURING CAFE HOURS DURING COVID-19 RESTRICTIONS
The Glencorse View route starts and ends at the information centre
Displays and information about the Regional Park
Leaflets that will help you enjoy the Regional Park
Garden with picnic tables
How to get there: see google maps or check out our leaflet How to get to the Pentland Hills by bus