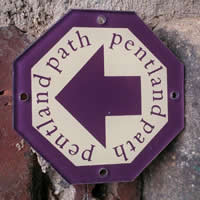 What's happening in the Pentland Hills Regional Park during the crisis.
ALL CAR PARKS ARE CLOSED
.
Find out why here.
Please access your local greenspaces by foot or by bicycle
. The car parks are places where people gather together: this goes against principles of social distancing. Driving to the hills whilst the car parks are closed leads to displacement parking, and a huge amount of worry and stress for local residents.
If you are accessing outdoor spaces at these times, make sure you are adhering to the principles of social distancing - as well as all guidance from the NHS and Scottish Government. This means keeping a distance of 2m from each other and people you may meet along the way. Do not arrange to meet friends in groups to access outdoor spaces; only walk with members of your household.
Harlaw House: Be advised that Harlaw House Visitor centre is closed to the public until further notice (including the toilet). This decision has been taken in line with the guidance to slow the spread of COVID-19. Bird hides are closed.
Flotterstone Visitor Centre Be advised the cafe is now closed, as are the toilets.
Think you have COVID-19? Follow government guidelines and stay at home. If you were to require rescuing, you would be putting mountain rescue volunteers and emergency service personnel at risk. Read Scottish Mountain Rescue's statement.
If you live locally to the Pentland Hills, and are planning to walk or cycle to them, do not take unnecessary risks. It is likely that volunteer mountain rescue teams and the emergency services will be at a reduced capacity over the coming months, and may not be able to respond to a call-out as swiftly as in the past. Stick to routes and paths you are confident are within your ability. Read Mountaineering Scotland's recommendations.
We hope everyone stays safe and well during this time. We will keep you up to date with any developments.