Harlaw car park improvements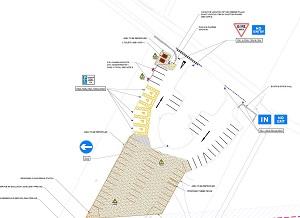 Initial works will take place Mon 3 Oct - Fri 7th Oct, during which time the car park will be closed. There may be similar closures the following week (Mon - Fri). Note that the access track will have some limited parking available but we recommend visiting Bonaly or Threipmuir instead during this time.
View the planning consent for works at Harlaw car park; planning application 20/05137/FUL was submitted on 23/11/2020, with confirmation received on 23 February 2022.
The car park will be restructured and expanded to create a total capacity within the formal car park (excluding the access track) of 57 spaces and five blue badge spaces. The one-way system will be formalised to manage traffic flow, signage will be installed, and ANPR car park charging systems introduced. In order to promote and facilitate sustainable travel methods, we will install fourteen bike stands, a public bike pump and repair station, and two EV charging points.
Two toilets will be installed at Harlaw car park, which will be unisex and accessible. The provision of toilet facilities will help to mitigate the impact of outdoor toileting at this hot spot, popular with recreational users including anglers and "wild" campers, and enhance the visitor experience.
The first phase of works at Harlaw will involve some limited tree felling; the car park will be closed to the public during this time. We will keep the public informed of dates by signage on site, through this website, and through our Facebook page.
You can view the full plan by downloading it.